ZVerse and Carbon ® Announce Strategic Partnership to Bridge the Design Gap for Digital Manufacturing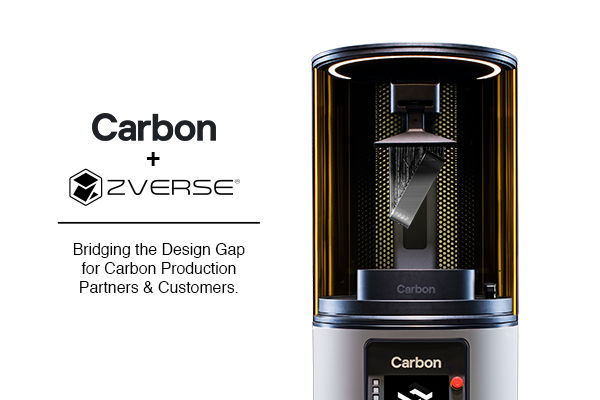 ZVerse, developer of the first automated 3d design on demand platform for digital manufacturing, and Carbon®, a leading silicon valley-based digital manufacturing company, today announced a strategic partnership to offer enhanced design support to Carbon® production partners and customers.
Columbia, S.C. / Redwood City, CA.: The demand for production grade 3d printed parts continues to grow as hardware and material science evolves. More companies are adopting additive manufacturing as a viable option to replace traditional manufacturing methods for end use parts or for parts used in their plants. Additive manufacturing removes the traditional manufacturing design constraints, but the design process continues to be a major friction point for some companies who have yet to adopt 3d printing. To increase the funnel of production applications for Carbon's Production Partners and Customers, ZVerse and Carbon have agreed to enter into a design partnership leveraging the ZVerse 3D Design On Demand Platform and Services optimized for the Carbon Production Network (CPN).
"We are thrilled to partner with Carbon to deliver their Production Partners and Customers the easiest path from idea to manufacturable files. Our mission is to increase the pipeline of production applications for our digital manufacturing partners, at scale, by removing the friction associated with providing design services," said John Carrington, CEO at ZVerse. "As a Design Partner, we look forward to enabling more production opportunities for companies using Carbon DLS™ technology."
"Carbon recognizes that removing design friction leads to more production applications and that is why this partnership is important," said Phil DeSimone, Co-Founder and VP of Business Development of Carbon. "ZVerse will help bridge the design gap and enable Carbon customers to create previously un-makeable products using Carbon DLS technology."
About ZVerse
ZVerse is solving the massive content creation challenge of digital manufacturing with the only 3D design on-demand platform and designer marketplace optimized for the manufacturing as a service (MaaS) ecosystem. ZVerse has combined its machine learning technology and private network of elite 3D designers to create an Automated 3D Design Cloud that provides the best experience for digital manufacturers, designers and the end customers who just need a part. The ZVerse Platform processes thousands of design requests per day for our digital manufacturing partners who are producing parts for industrial applications. To learn more, visit www.zverse.com , connect with us on LinkedIn or email info@zverse.com
About Carbon
Carbon's mission is to reinvent how polymer products are designed, engineered, manufactured, and delivered, towards a digital and sustainable future. Based in Silicon Valley, Carbon brings together innovations in software, hardware, and molecular science to deliver industry-leading digital manufacturing solutions. With Carbon's ground-breaking Digital Light Synthesis™ technology and broad family of programmable liquid resins, manufacturers can unlock new business opportunities such as mass customization, on-demand inventory, and previously impossible product designs. The Carbon Platform allows customers to build uniquely differentiated products while reducing waste and speeding time to market. To learn more, visit www.Carbon3d.com , like the Carbon Facebook page, or follow Carbon on Instagram and Twitter at @Carbon.
Originally published at https://www.zverse.com.