Digital Manufacturer TPM Advances Production Processes with AI-Driven On-Demand Manufacturing Platform ZVerse360 — ZVerse 3D Solutions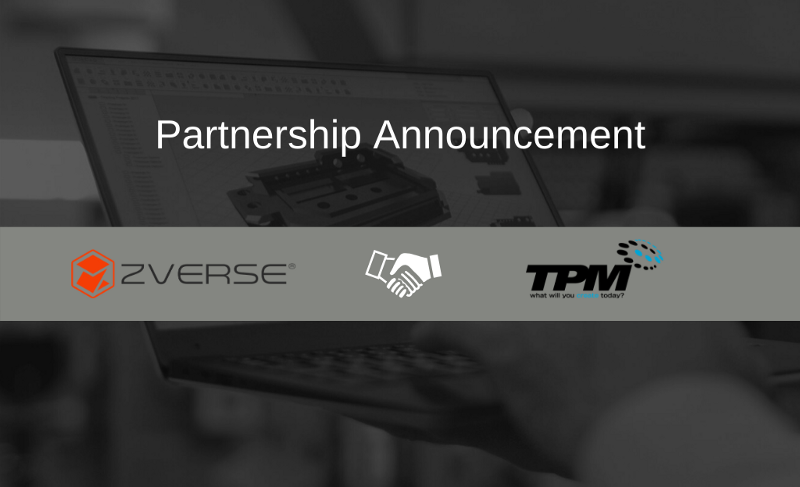 COLUMBIA, S.C. — June 04, 2020 — Digital manufacturing technology company has partnered with to license its AI-enabled on-demand manufacturing platform, ZVerse360. TPM will run production through the ZVerse360 platform and fulfill projects through its in-house production group, as well as leverage into TPM's extensive manufacturing customer base across the Southeast.
The ZVerse360 platform aims to simplify and accelerate the design-to-production process, through an end-to-end solution for on-demand digital manufacturing, including CAD as a Service (CADaaS), instant quoting, e-commerce, workflow management and access to the ZVerse production partner network.
"For more than 45 years, we have been all about helping our customers move from idea to reality in the fastest, most efficient way possible," says TPM's President Chris Fay. "In addition to TPM's extensive professional services and technology offerings, this partnership with ZVerse adds even more innovation and resources to drive operational efficiencies for both our customers and us. It allows us all to reach a new level of digital transformation through use of the instant quoting tool and the automated workflow management."
TPM will also leverage the ZVerse CADaaS design network. Fay continues, "Our customers face obstacles and roadblocks as they go to one vendor for design services and to another for manufacturing. For us to now be able to provide customers with 3D design services on top of other consulting, training and implementation services, simplifies and accelerates their route to production. We support our customers with a complete solution by eliminating the need to source design services externally."
"TPM is an innovator in digital manufacturing and they are using ZVerse360 strategically as the foundational platform to better manage their digital manufacturing business and drive efficiencies," said ZVerse CEO and founder John Carrington. "Through this partnership, our CAD as a Service platform enables TPM's customers who need a 3D file, or need one optimized. It applies our expert design network and AI-enabled technology to meet their needs in a quick and seamless way."
ZVerse360 can be configured to complement a customer's unique business processes and needs. Customers have the option to access the ZVerse production partner network, which has capabilities in additive, CNC, injection molding and sheet metal manufacturing.
For more information, follow ZVerse on and visit
About ZVerse
ZVerse, Inc. is a digital manufacturing technology company. ZVerse360, its proprietary on-demand digital manufacturing platform, increases business agility and supply chain resilience, bringing products to market faster through dynamic matchmaking capability between supply and demand, in real-time. The Columbia, South Carolina-based company is the developer of the only CAD as a Service (CADaaS) platform for digital manufacturing.
About TPM
TPM, Inc. is headquartered in Greenville, SC with offices across the Southeast. TPM is the Southeast's leading provider of 2D and 3D design technology alongside partners that include Autodesk, SOLIDWORKS, HP, MarkForged, Canon, Oce, and many more. TPM serves more than 3,500 customers each year with technology solutions, training, consulting, and implementation services. For more information about how TPM's talented team is leading the way in an ever-changing market, visit their website at www.tpm.com
Originally published at https://www.zverse.com on June 5, 2020.