Bridging the Gap for Legacy Parts — ZVerse 3D Solutions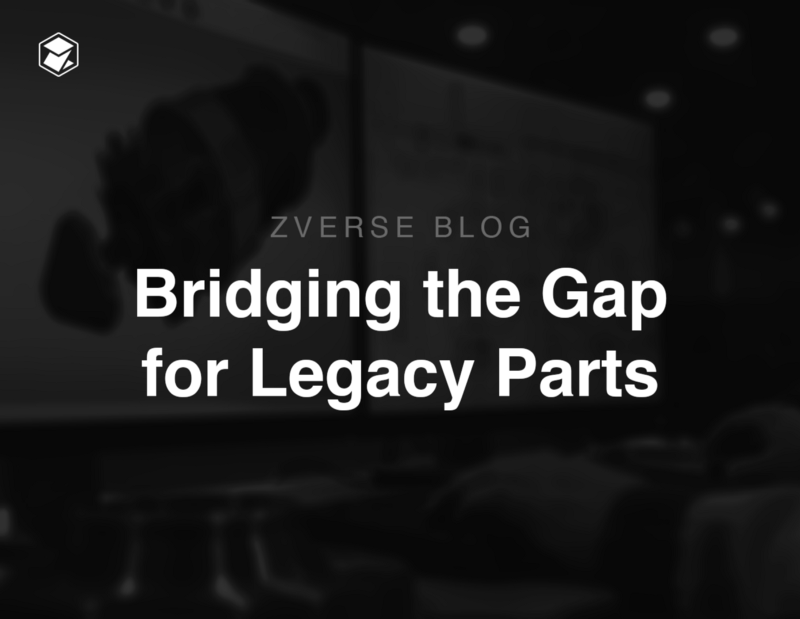 Mark Twain has been quoted as saying "Buy land, they aren't making it anymore". But for anyone who's ever been stuck looking for a part for personal or business use that is no longer made, it seems that land has a junior partner. And finding the right legacy part for an old piece of equipment can bring an operation to a grinding halt.
What are Legacy Parts?
Legacy parts are components of equipment that are no longer produced by the OEM. As patents run out on old machines and new generations of equipment are produced, inventory of the no-longer-produced part become scarce and then disappears altogether. But just because an equipment manufacturer has stopped making a piece of machinery doesn't mean that it isn't vital to a company's production needs. In fact, the average age of manufacturing fixed assets is close to twenty years old, double what it was in 1990. And when the need to source a legacy part hits, it can impact a company's bottom line. Some examples of necessary legacy parts include:
A New England textile mill producing a specialty consumer product experiencing a consumer revival found itself operating equipment from the 1970s at full capacity with no new additional equipment made after 1980. The lack of parts meant that equipment risked being idle while new parts were sourced, or custom made.
A boutique winery in upstate New York with its own bottling line found that the aging line needed a steady source of wearable parts. The fittings of the older metal components in the equipment mean that shims, seals and other wearable plastic and nylon parts wore out at a faster rate than they would have otherwise. And while new equipment was available, the capital expenditure required for new equipment was out of their reach forcing them to rely on legacy parts to keep a profitable operation going.
Challenges in Reproducing Legacy Parts
The biggest challenge in reproducing legacy parts lies in the reality that these parts are usually not digitized. This creates a second tier of risk that can drive up cost and affect quality. Some of the areas impacted by lack of digitized parts include:
Many legacy parts can be made from nylon, phenolic metal, or other millable material. But the lack of digitization means that parts must be fashioned with an in-house or subcontracted machine shop usually at a premium cost compared to OEM costs that were lower due to mass production during the equipment's life span.
As capital equipment wears over time, component fittings in the non-wearable sections of the machine may loosen and may require subtle changes to the part to keep it from immediately wearing again. If the part is being milled using an old drawing, or even a measurement from the old part, the resulting part may not fit as well as it could and may cause quality issues with the finished product of the machine.
As legacy parts become scarce equipment is at risk for down time and time is money. The days, and possibly weeks or months, required to scour the internet for a part or have one custom made can leave equipment idle during a crucial production run.
Turning the Corner
With the average age of manufacturing equipment at its highest since 1925, there is finally light on the horizon to address these needs. The opportunity provided those seeking legacy parts can be largely addressed through 3D printing and on demand manufacturing. As 3D printing technology has matured, so has the skillsets and product and service offerings in support of it. What was once a hard to assess variable within many operations is now a manageable and cost-effective option when using 3D printing to manufacture parts on demand. These services include following:
If equipment has reached the end of its serviceable cycle and with no IP issues involved, parts can be digitized for quick production in a variety of formats including plastic and metal. For those without access to in-house CAD the digitization of parts can position them to be able to react when needed with less time and with accurate, printable models.
In many ways, 3D printing was made for legacy parts. Faced with the high cost/high waste of either custom making a part in a machine shop or in producing more parts than needed to capture volume costing, 3D printing can deliver the number of parts with the least waste.
Many legacy parts require modification to adjust fit or to alter it in some way due to excessive wear of other components. But many companies lack the in-house expertise to make these adjustments. 3D technology in the hands of an experienced 3D modeler can result in a better part more suitable for the age of the machine.
The ZVerse Enterprise Digital Inventory Solution helps aftermarket service organizations digitize legacy parts at scale. This outcome-based model breaks through traditional industry barriers by enabling manufacturers to convert 2D drawings into manufacturable 3D files while seamlessly integrating with existing workflows. In turn, organizations can reduce inventory costs, increase part availability, and optimize output. Interested in learning more? Contact us for a demo.
Originally published at https://www.zverse.com on September 10, 2019.